O'Neil Cinemas Participates in Extra Life

Our team, here at Oneil Cinemas, has made it our mission to help our community when the opportunity arises. This time, via our Oneil Cares program, Oneil Cinemas is on a mission to save kids through video games, and we need your help.
Each of our team members has chosen our local Children's Miracle Network Hospital where thousands of children are treated each year, regardless of their family's ability to pay. These kids are facing scary stuff like cancer, cystic fibrosis, and injuries from accidents to name just a few.
On October 25th, 2014, we'll be part of a huge international celebration of the social impact of gamers with Extra Life and it's our sincere hope that you'll find it in your heart to support us with a monthly pledge or one-time gift that will go directly to that team member's chosen hospital.
Your donation is tax-deductible and ALL PROCEEDS go to help kids.Last year, Extra Life raised more than 4 million dollars to save kids, but in 2014 our goals, just like the needs of the kids we serve, are much, much higher.We can't do this without your help. Donating online is safe and easy!
To make an online donation please click a participant's name and then click the "Support This Participant" button on this page.
Thank you for caring for our kids!
O'Neil Partners with Granite Youth Film Festival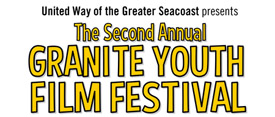 For the summer of 2014, we partnered with United Way of the Greater Seacoast on "The Second Annual Granite Youth Film Festival," and were excited to showcase the film festival to the public on Sunday, June 8th at the Epping theater location for $5, from which a portion of the ticket sales went back to United Way youth work.
The film festival also featured a fundraiser raffle, with all proceeds benefitting United Way youth work.
If you or your company is interested in donating a raffle or door prize, please contact us at 603-679-3529!
Interested in working with O'Neil Cinemas Cares, or learning more about the program? Call our Operations Manager, Jen Conley, with any additional questions at: 603-679-3529 or email at jenl@oneilcinemas.com.
We are looking forward to hearing from you and continuing to give back to the local Southern New Hampshire Community!