Why Vote O'Neil Cinemas Epping in Best Of NH Poll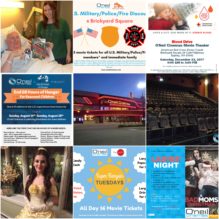 O'Neil Cinemas fans, we need your help!
Voting is now open through March 16 for NH Magazine's Best Of NH poll. We here at O'Neil Cinemas value our customers and hope to get your vote for Best Independent Movie Theater (No. 107 on the ballot).
Vote in Best of NH 2018 Poll
We had a really good year at O'Neil Cinemas. Most recently, we made national news when we were able to help veteran Mr. Ronald Villemaire see The Last Jedi on the big screen at our Epping theater. It was such an honor to be able to help him and see the joy it brought to his face. The story was picked up by everyone from E! News to CNN.
As part of our O'Neil Cinemas Cares program, we also have hosted food drives to benefit lower-income families during Thanksgiving and for children in need at the beginning of the school year. In December, we hosted a blood drive with the American Red Cross that helped save the lives of people in need of blood. In addition to these campaigns, everyday we provide military/police/fire men and women who protect us with discounts for them and their family.
We love showing new releases at our theater and putting on fun events, like when A Party Palace characters visited our theater for the release of the live-action Beauty and the Beast. Not only do we put on family-friendly events, but we also have entertainment for adults. During the holiday season, we held a Ladies' Night event in honor of the film A Bad Moms' Christmas, with skincare samples, mini-makeovers, a gift card giveaway, and more. There's something for all ages at O'Neil Cinemas. Plus, we're also one of the few places in New Hampshire to offer DBOX entertainment, which makes you feel like you're fully immersed in the film.
Vote for O'Neil Cinemas, Now Thru March 16
Vote for O'Neil Cinemas Epping, NH movie theater here in NH Magazine's Best of NH poll. And thank you for seeing movies at O'Neil Cinemas!