What is the Grand DLX Auditorium?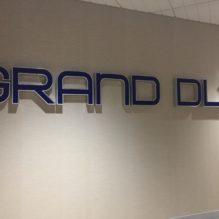 Have you been to O'Neil Cinemas at The Point in Littleton, MA yet?
In addition to eight all-stadium screens, the movie theater also boasts the Backstage Lounge bar and restaurant, which features a 15-foot video wall for watching events like the Super Bowl and the Academy Awards. Plus, it features food that you can eat there or take with you into your movie (or even have it delivered when it's ready!).
The movie theater also includes the Grand DLX Auditorium, a state-of-the-art movie-going experience that's one-of-a-kind in the region.
What is Grand DLX?
Seating nearly 300 people, the Grand DLX Auditorium is O'Neil Cinema's Premium Large Format concept that features three important S's – screen, seating, and sound. A massive screen size coupled with luxury leather recliners provide maximum comfort, including a spacious seven feet of legroom between the rows of seats. Add Dolby Atmos—an immersive, multidimensional sound system—for a lifelike experience that makes guests feel part of the action. There are 64 speakers located in the front, back, sides, and ceiling to bring even more dimension to the audio of a film.
The Grand DLX has the biggest curved screen in the region, roughly the size of the Green Monster at Fenway Park at 72 feet wide and 37 feet tall. The auditorium is especially meant for movie event films like Justice League, Star Wars: The Last Jedi, and upcoming Marvel movies like Black Panther (out February 9) and Avengers: Infinity War (out May 4).
Upcoming Movies You Can Expect to See in Grand DLX
While films are subject to availability, Littleton movie fans can expect to see some of these upcoming 2018 movies at the Grand DLX Auditorium: Ready Player One (out March 29), Deadpool 2 (out May 18), Solo: A Star Wars Story (out May 25), Jurassic World: Fallen Kingdom (out July 22), Ant-Man and the Wasp (out July 6), Mission Impossible: 6 (out July 27), The Predator (out August 3), Venom (out October 5), and X-Men: Dark Phoenix (out November 2). Note that films are subject to change.
Grand DLX Auditorium
The Grand DLX experience is an experience not to be missed by movie fans. For more information, give us a call at (978) 506-5089.