'Tomb Raider' Alicia Vikander's Best Action Roles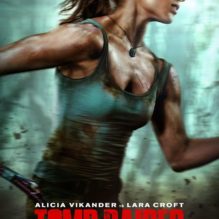 Academy Award winner Alicia Vikander is your new Lara Croft in Tomb Raider, out Thursday, March 15.
Tomb Raider Movie 2018
In the new film, Lara Croft, the fiercely independent daughter of a missing adventurer, must push herself beyond her limits when she finds herself on the island where her father disappeared.
While she won the Best Supporting Actress Oscar for the drama The Danish Girl, Vikander is no stranger to action roles. Here are a few of her best action movies.
Alicia Vikander Action Movies
Ex Machina (2014)
Some might call this "the film that started it all" for Vikander. Even though she had done other movies before this movie, this was truly her breakout performance, as Ava. The action in this film is minimal, but deadly.
Seventh Son (2014)
Academy Award winners Jeff Bridges and Julianne Moore, stars of this film, must have rubbed off on Vikander. When Mother Malkin (Moore), the queen of evil witches, escapes the pit she was imprisoned in for decades, she recruits her followers to unleash her wrath on humanity. Vikander plays Alice in this film, the niece of Mother Malkin.
The Man from U.N.C.L.E. (2015)
Taking place during the early 1960s, this remake stars Henry Cavill as CIA agent Napoleon Solo and Armie Hammer as KGB operative Illya Kurayakin, who participate in a joint mission against a mysterious organization that's working to proliferate nuclear weapons. Vikander's Gaby gets mixed up in these two in this action spy comedy.
Jason Bourne (2016)
Matt Damon's Jason Bourne is on the run again, in this latest Bourne Identity installment. This time he has Vikander's Heather Lee, CIA head of cyber-security, after him.
Tomb Raider at O'Neil Cinemas
See Alicia Vikander in Tomb Raider (co-starring Walton Goggins, Dominic West, and Kristen Scott Thomas) when it arrives at O'Neil Cinemas at The Point in Littleton and O'Neil Cinemas in Brickyard Square in Epping on Thursday, March 15.