Join Our Big Screen Book Club & Add These Books to Your Reading List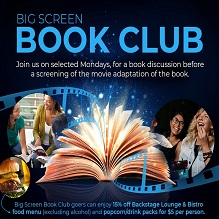 Do you like to read the book before seeing the movie?
Big Screen Book Club at O'Neil Cinemas
Then join O'Neil Cinemas at The Point in Littleton and the Silver Unicorn Bookstore of Acton for the Big Screen Book Club. Our first Big Screen Book Club selection is A Dog's Journey by W. Bruce Cameron.
On Monday, May 20, we'll be discussing the book in the Backstage Lounge & Bistro at 6 p.m. followed by a screening of the film at 7 p.m. Big Screen Book Club-ers can enjoy 15 percent off the Backstage Lounge & Bistro food menu and popcorn/drink packs for $5 per person.
Other Books-To-Movies Coming Soon
Add these upcoming movie adaptations of your favorite books to your reading list for future Big Screen Book Club selections.
Note: Movies are subject to availability and are not guaranteed to be booked. Book club session and movie are subject change. We will not be doing the book club if we do not get the movie.
The Sun is Also a Star (May 17) - Based on YA novel by Nicola Yoon
A teenager finds love at a difficult time in her family's life. Stars Yara Shahidi (Grown-ish) and Charles Melton.
Scary Stories to Tell in the Dark (August 9) - Based on some of the stories from the book/collection of short stories by Alvin Schwartz
A group of teens face their fears in order to save their lives.
Where'd Ya Go, Bernadette? (August 9) - Based on book by Maria Semple
Bernadette Fox (Cate Blanchett) is a Seattle woman who had it all. When she unexpectedly disappears, her husband (Billy Crudup) and daughter (Emma Nelson) set off on an exciting adventure to solve the mystery of where she might have gone.
It Chapter 2 (September 6) - Stephen King
Twenty-seven years later, the Losers Club have grown up and moved away, until a devastating phone call brings them back. Stars Jessica Chastain, James McAvoy, Bill Hader, and Bill Skarsgard.
The Goldfinch (September 13) - Novel by Donna Tartt
A boy in New York is taken in by a wealthy Upper East Side family after his mother is killed in a bombing at the Metropolitan Museum of Art. Stars Nicole Kidman and Sarah Paulson.
The Art of Racing in the Rain (September 27) - Novel by Garth Stein
A dog named Enzo recalls the life lessons he has learned from his race car driving owner, Denny. Stars Kevin Costner, Milo Ventimiglia, and Amanda Seyfried.
The Woman in the Window (October 4) - Novel by AJ Finn
An agoraphobic woman (Amy Adams) living alone in New York begins spying on her new neighbors only to witness a disturbing act of violence. Also stars Julianne Moore.
The Good Liar (November 15) - Novel by Nicholas Searle
Career con artist Roy Courtnay (Ian McKellan) can hardly believe his luck when he meets well-to-do widow Betty McLeish (Helen Mirren) online. As Betty opens her home and life to him, Roy is surprised to find himself caring about her, turning what should be a cut-and-dry swindle into the most treacherous tightrope walk of his life.
The Rhythm Section (November 22) - Novel by Mark Burnell
A woman seeks revenge against those who orchestrated a plane crash that killed her family. Stars Blake Lively and Jude Law.
Little Women (December 25) - Louisa May Alcott
Director Greta Gerwig follows up Lady Bird with this classic about four sisters coming of age in America in the aftermath of the Civil War. Stars Emma Watson, Saoirse Ronan, Laura Dern, Timothee Chalamet, and Meryl Streep.
The Call of the Wild (December 25) - Jack London
A sled dog struggles for survival in the Alaskan wild. Stars Harrison Ford, Dan Stevens, and Karen Gillan.
Monday, May 20
See you on Monday, May 20 at 6 p.m. when our Big Screen Book Club kicks off with A Dog's Journey. The book can be purchased at The Silver Unicorn Bookstore located at 12 Spruce Street in Acton.