Meet the New Cast of 'Pacific Rim Uprising'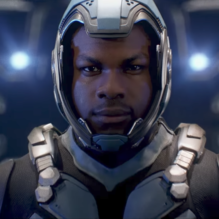 Pacific Rim Uprising, the sequel to 2013's Pacific Rim, will premiere this Thursday, March 22 at O'Neil Cinemas in Brickyard Square in Epping, New Hampshire and at The Point in Littleton, Massachusetts. See it in DBOX at O'Neil Cinemas Brickyard Square or in the Grand DLX Auditorium in Littleton.
In the first film (directed by Academy Award winner Guillermo Del Toro), a former pilot (Idris Elba) and a trainee (Charlie Hunnam) pair up to drive a seemingly obsolete special weapon in an effort to save the world from an apocalypse involving human kind versus monstrous sea creatures.
Pacific Rim Sequel
The second Pacific Rim film takes place 10 years after the Battle of the Breach, with a new threat against humanity's extinction.
In the sequel, Idris Elba and Charlie Hunnam do not reprise their roles, but audiences are introduced to a new generation of characters and a new threat.
Meet the Pacific Rim Uprising Cast
John Boyega (Jake Pentecost)
You know him as Finn in the new Star Wars series, but in Pacific Rim: Uprising, he plays Jake Pentecost, son to Stacker Pentecost (Idris Elba).
Scott Eastwood (Nate Lambert)
Eastwood (real-life son of Clint Eastwood) plays a Jaeger pilot (and Jake's rival) in this film.
Cailee Spaeny (Amara Namani)
Newcomer Spaeny plays a teenage hacker and Jaeger pilot who helps fight against a new Kaiju threat.
Returning Pacific Rim Cast Members
Charlie Day (Dr. Newton Geiszler)
Day, best known as Charlie on It's Always Sunny in Philadelphia, returns as Dr. Geiszler.
Mako Mori (Rinko Kikuchi)
Academy Award nominee Kikuchi also returns in the sequel. In the film, Jake Pentecost unites with Mori to help lead a new generation of Jaeger pilots.
Pacific Rim Uprising at O'Neil Cinemas
See Pacific Rim Uprising when it arrives at O'Neil Cinemas at The Point in Littleton and O'Neil Cinemas in Brickyard Square in Epping on Thursday, March 22.