'How To Train Your Dragon' and The Best Movie Trilogies of the New Millennium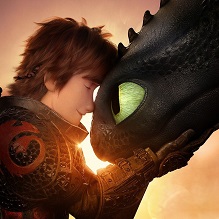 How To Train Your Dragon: The Hidden World premieres at O'Neil Cinemas Brickyard Square Epping, NH and O'Neil Cinemas at The Point Littleton, MA on Thursday, February 21.
How To Train Your Dragon: The Hidden World
In this final film in the series, Hiccup (voice of Jay Baruchel), who's now chief and ruler of Berk, has created a gloriously chaotic dragon utopia. However, he and Toothless soon discover the sudden appearance of another Night Fury dragon and must leave the only home they've known to journey to a hidden world thought only to exist in myth. They have to fight together---to the very ends of the Earth---to guard everything they've grown to treasure.
See the film in Real 3D at Brickyard Square or Real 3D or GRAND DLX at The Point.
Best Movie Trilogies of The New Millennium
Critics are calling How To Train Your Dragon one of the best film trilogies of the decade, joining some of these other great three-movie franchises.
Batman Begins/The Dark Knight/The Dark Knight Rises
Director Christopher Nolan put the Dark in the Dark Knight franchise by creating a Gotham City unlike any other.
Hotel Transylvania/Hotel Transylvania 2/Hotel Transylvania 3: Summer Vacation
You'll never look at Dracula the same way when you meet this animated version (voiced by Adam Sandler) and his daughter Mavis (voiced Selena Gomez). Dracula must learn to let his daughter grow up and make new friends, while also making new relationships for himself.
Maze Runner/Maze Runner: The Scorch Trials/Maze Runner: The Death Cure
Thomas (Dylan O'Brien) wakes up trapped in a maze full of boys and can't remember anything about the outside world. The film trilogy is based on the dystopian novels by James Dashner and concluded in 2018.
Pitch Perfect/Pitch Perfect 2/Pitch Perfect 3
You've got to be aca-kidding us if we weren't going to include this trilogy on our list. Over the course of the trilogy, the Bellas go from college singers to on tour with the USO.
What's your favorite film trilogy of the new millennium?
Showtimes and Tickets to How To Train Your Dragon: The Hidden World
For Showtimes/Tickets to How To Train Your Dragon: The Hidden World, visit our Epping page or our Littleton page.