7 Fun Facts About 'A Wrinkle In Time' Movie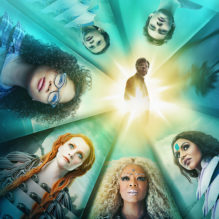 It's taken Hollywood more than 50 years to bring Madeleine L'Engle's beloved children's classic A Wrinkle In Time to the big screen, as the book was published all the way back in 1962.
A Wrinkle In Time Film
Director Ava DuVernay (Selma) directs the new Disney adaptation (out March 8), with screenwriter Jennifer Lee (Frozen) and Jeff Stockwell (Bridge to Terabithia) transforming L'Engle's words into a script for movie audiences. The film stars newcomer Storm Reid as Meg Murray, the young protagonist in search of her missing father (Chris Pine) with the help of Mrs. Whatsit (Reese Witherspoon), Mrs. Who (Mindy Kaling), and Mrs. Which (Oprah).
7 Fun Facts About A Wrinkle In Time Movie
Even though author L'Engle passed away in 2007, the author apparently makes a cameo in the film in the form of a photograph (hopefully it makes the final cut of the film!).
This is Mindy Kaling's first live-action Disney movie. Her voicework previously appeared in Inside Out and Wreck-It Ralph.
Director DuVernay calls the film "a metaphor for what all we can do with our lives."
Reid read the book and had a test on it when she was in the sixth grade.
The twin brothers in the book, Sandy and Dennys, were cut from the movie, although there was much discussion about it. Ultimately, the team decided to focus on the relationship between Meg and her brother Charles Wallace (Deric McCabe).
"It was a dark and stormy night." While the book starts with these words, the film takes place in sunny Downtown Los Angeles.
There are other books in the series, which means there could be sequels.
A Wrinkle In Time comes to O'Neil Cinemas theaters in Brickyard Square in Epping and at The Point in Littleton this March.