The Best Motorcycle Movies To Get You Revved Up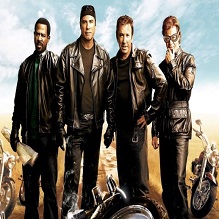 On Tuesday, September 10, O'Neil Cinemas will have a tent at Motorcycle Night Two Wheel Tuesdays on Pawtucket Boulevard in Lowell from 6 p.m. to 9 p.m.
Stop by our tent, where we'll be selling $7 movie tickets---yes, $7 MOVIE TICKETS---perfect for stocking up on holiday gifts, corporate incentives, and more. The tickets can be used at any time, at either O'Neil Cinemas location, and never expire.
Best Motorcycle Movies
To get you revved up for Motorcycle Night, we're listing some of the best motorcycle movies to get you into gear.
1. Wild Hogs (2007)
John Travolta, Tim Allen, William H. Macy, and Martin Lawrence star in this comedy about a group of suburban biker wannabes who encounter more than they bargain for in the form of a New Mexico gang called Del Fuegos.
2. Easy Rider (1969)
This classic starring Peter Fonda, Dennis Hopper, and Jack Nicholson follows two bikers who head from L.A to New Orleans, and along the way, meet a man who bridges a counter-culture gap they are unaware of.
3. The Motorcycle Diaries (2004)
Gael Garcia Bernal stars in this film about the fateful motorcycle trip that Marxist revolutionary Che Guevara went on that made him discover his purpose.
4. The Wild One (1953)
After one of their leaders is thrown in jail, two rival motorcycle gangs terrorize a town. Stars Marlon Brando.
5. The World's Fastest Indian (2005)
Sir Anthony Hopkins stars in this film as New Zealander Burt Munro, who spent years rebuilding a 1920 Indian motorcycle, which helped him to set a record for land speed in 1967 at Utah's Bonneville Salt Flats.
Motorcycle Night Two Wheel Tuesdays
We hope to see you at Two Wheel Tuesdays on Pawtucket Boulevard in Lowell on Tuesday, September 10 from 6 p.m. to 9 p.m. Stop by our tent and purchase $7 movie tickets!