O'Neil Cinemas 7 Favorite Bits of Movie Trivia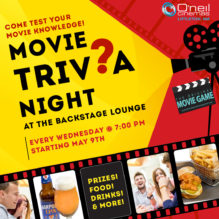 How well do you know movies?
O'Neil Cinemas Trivia Night
Come to the Backstage Lounge at O'Neil Cinemas at The Point in Littleton, Massachusetts for Trivia Night every Wednesday at 7 p.m., starting May 9.
The trivia will be based on The Original Movie Game, and whether you're a movie buff or casual movie-goer, you know more about movies than you think.
7 Bits of Favorite Movie Trivia
The trivia behind movies can sometimes be just as interesting as the movie itself! Here are our favorite bits of movie trivia:
Ryan Gosling was chosen to play Noah in The Notebook because the director Nick Cassavetes wanted someone who was "not handsome."
In When Harry Met Sally, Billy Crystal improvised the line "But, I would be proud to partake of your pecan pie," which caused Meg Ryan to laugh and look to her right, which you can see in the film. Reiner silently prompted to keep going.
On the set of Jurassic Park, the giant Tyrannosaurus rex did kind of "come alive", as it occasionally experienced malfunctions when it rained. Producer Kathleen Kennedy said: "The T. rex went into the heebie-jeebies sometimes. Scared the crap out of us. We'd be, like, eating lunch, and all of a sudden a T. rex would come alive. At first, we didn't know what was happening, and then we realized it was the rain. You'd hear people start screaming."
During the famous "Puffy attacks" scene in There's Something About Mary, to get a reaction, one of the Farrelly brothers mooned Cameron Diaz and Lin Shaye after Puffy jumps out the window.
On the first day of filming for The Devil Wears Prada, Meryl Streep said to Anne Hathaway: "I think you're perfect for the role. I'm so happy we're going to be working together." Then she paused and said, "That's the last nice thing I'll say to you." And it was.
In The Wolf of Wall Street, the humming and chest beating that Matthew McConaughey's character does is actually what the actor does to prepare for acting scenes.
The role of Ripley in Alien came down to Sigourney Weaver and Meryl Streep, and it was also originally written for a man. (Can you imagine Streep as an action star?)
Trivia Night at O'Neil Cinemas The Point
How much do you know? Join us for Trivia Night every Wednesday at 7 p.m. at the Backstage Lounge, starting Wednesday, May 9.
Showtimes/Tickets
Browse Brickyard Square and The Point movie showtimes and purchase tickets at oneilcinemas.com.