Downton Abbey and the Best TV Jumps to the Big Screen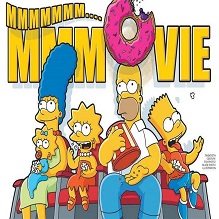 O'Neil Cinemas is proud to present the film Downton Abbey starting Thursday, September 19 at O'Neil Cinemas Brickyard Square and O'Neil Cinemas at The Point.
Nearly four years after the final episode aired, the Crawley family story continues, following the wealthy owners of a large estate in the English countryside in the early 20th century. The film is rated PG and stars original cast members, including Michelle Dockery, Joanne Froggatt, Matthew Goode, Maggie Smith, and more.
There are many big-screen reboots and reimaginings of TV shows (Bewitched, Charlie's Angels, The A Team), but a select few feature the same cast of characters, continuing on the story and getting to do more than the small screen allows them to.
Downton Abbey joins a select list of TV-to-movie adaptations. Here are some of our favorites.
Best TV-to-Movie Adaptations
South Park: Bigger, Longer, & Uncut (1999)
Our favorite foul-mouthed Colorado kids got to spread their wings and let the expletives fly in this Rated R film, which follows the group of friends seeing a Rated R film and their parents blaming Canada for their cursing. The South Park movie went on to be nominated for an Academy Award for "Best Original Song."
Reno 911!: Miami (2007)
The bumbling Reno cops head to Miami for a cop convention, and when every cop in the city gets quarantined inside the convention, the Reno team becomes the only police enforcement in the city that can help anyone. Yikes!
The Simpsons (2007)
It took them 18 years, but The Simpson family finally made the jump from FOX to the big screen in 2007 with one epic film. There was cartoon nudity (Bart skateboarding in the buff!), a Best Supporting Actress moment (Marge was robbed an Oscar nom for this scene!), and a giant bubble over Springfield.
Sex and the City (2008)
Over the course of a year, Carrie, Miranda, Samantha, and Charlotte experience heartbreak, love, and motherhood, and Carrie gets the happy ending we always wanted for her. The HBO show also goes where it never did on the small screen, when Charlotte Poughkeepsies all over herself after drinking some bad water. Eek!
Entourage (2015)
The male equivalent to Sex and the City also made the leap to the big screen. The movie finds Vincent Chase and his buds back in business with a risky project.
What's your favorite TV-to-movie adaptation?
Get Tickets for Downton Abbey
Reserve your tickets for Downton Abbey today. Epping: Tickets. Littleton: Tickets.