Be a Hero and Give Blood at Our Blood Drive on July 12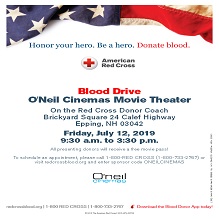 Want to earn a free movie pass just for being a hero?
On Friday, July 12 from 9:30 a.m. to 3:30 p.m., O'Neil Cinemas at Brickyard Square is hosting a blood drive with the American Red Cross in our parking lot outside of the theater.
Critical Blood Shortage
The American Red Cross is currently experiencing a critical blood shortage, with only 3 in 100 people donating blood in the United States.
"All blood types are urgently needed, but we're facing a critical shortage of type O blood – the blood group most needed by hospitals," said Cliff Numark, senior vice president, Red Cross Blood Services in a press release in May. "Because it's vitally important for hospitals to have type O blood available when every second counts, type O donors are urged to donate now and make a point to donate often."
How To Donate Blood

Interested in helping out? Here's how to donate.
1. Donors can schedule an appointment by using the free Red Cross Blood Donor App, visiting redcrossblood.org and using the sponsor code ONEILCINEMAS, or calling 1-800-RED-CROSS (1-800-733-2767).
2. Once you're signed up, save up to 15 minutes by using RapidPass to compelte the pre-donation reading and health history questionnaire online. For more information, visit RedCrossBlood.org/RapidPass.
In addition to being a hero, all donors will leave the drive with a free movie pass to O'Neil Cinemas (which can be used at either theater in Epping, NH or Littleton, MA).
O'Neil Cinemas Cares
As part of the O'Neil Cinemas Cares program, this marks the third blood drive event at the theater in Brickyard Square in less than a year. March's blood drive event produced 30 life-saving units when the goal was 28.
O'Neil Cinemas at Brickyard Square hopes to see you at the blood drive event with the American Red Cross on Friday, July 12 from 9:30 a.m. to 3:30 p.m. For more information, call (603) 679-3529.