8 Best Sandra Bullock Movies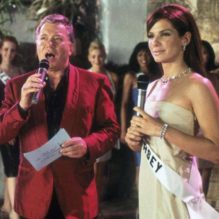 Sandra Bullock is back with an A-list cast in Ocean's 8, the all-female reboot of the Ocean's 11 franchise.
Ocean's 8 Plot
In the new film, Bullock stars as Debbie Ocean (sister to George Clooney's Danny), who gathers a crew for a heist at the New York City's annual Met Gala. The crew includes Cate Blanchett, Rihanna, Helena Bonham Carter, Sarah Paulson, Mindy Kaling, Awkwafina, and Anne Hathaway.
Ocean's 8 Premiere at O'Neil Cinemas
Ocean's 8 Premiere at O'Neil Cinemas The film is rated PG-13 and premieres on Thursday, June 7 at O'Neil Cinemas at The Point in Littleton, MA and O'Neil Cinemas in Brickyard Square Epping, NH.
Ahead of the premiere, we're listing our 8 favorite Sandra Bullock movies.
8 Best Sandra Bullock Movies
Speed (1994)
Pop quiz, hot shot: Is there a better action movie from the '90s? Bullock's breakthrough performance garnered her many other roles, in addition to a sequel to this film.
While You Were Sleeping (1995)
Bullock unofficially became America's Sweetheart in this charming romantic comedy about a subway operator who saves a rider and is mistaken for his fiance.
Miss Congeniality (2000)
As Gracie Lou Freebush, or really Gracie Hart, Bullock earned a Golden Globe nomination.
Two Weeks Notice (2002)
Bullock and Hugh Grant generated sparks in this romantic comedy about a lawyer who decides she can't work with her rich boss anymore.
The Lake House (2006)
Bullock reunited with Speed co-star Keanu Reeves in this magical romance about mailbox that links two people two years apart.
The Blind Side (2009)
Bullock earned an Academy Award for Best Actress for this film based on a true story about a family who took in an orphan who would go on to become an All American football player.
The Heat (2013)
Melissa McCarthy plus Bullock equaled comedy gold in this buddy cop film directed by Paul Feig (Bridesmaids).
Gravity (2013)
In this thriller, Bullock plays an astronaut who gets stranded in space (also stars her Ocean's 8 brother George Clooney). She earned her second Academy Award nomination for this movie.