7 Ways to Save Money at O'Neil Cinemas This Summer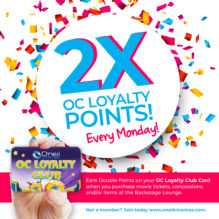 Saving for a big vacation or trip this summer?
Just because you're going on vacation doesn't mean you have to stay in to save money. O'Neil Cinemas in Brickyard Square Epping, NH and at The Point in Littleton, MA offers a variety of ways to save money and stay entertained this summer.
7 Ways to Save Money at O'Neil Cinemas This Summer
Double Point Mondays
Every Monday, O'Neil Cinemas offers Double Point Mondays, where OC Loyalty Club members can earn double the points on movies, concessions, and/or Backstage Lounge items. And you know what more OC Loyalty points means? More free popcorns, drinks, and more. Register for our Loyalty Club here.
Super Bargain Tuesdays
Every Tuesday, we slash our ticket prices and offer special concession discounts! In Epping, Super Bargain ticket prices are $5 each, while in Littleton they're $6 each.
Summer Kids Series
Every Monday and Wednesday* from July 2 to August 15, both O'Neil Cinemas locations will be showing kid-friendly movies at 10 a.m. for $1 ages 11 and under, $2 all other ages. Kids popcorns and drinks are also $2.50 each. *Note: There is one Thursday date on July 5 to accommodate the Fourth of July.
Subscribe to Our Newsletter
If you haven't subscribed to our newsletter yet, when you do, you earn a free small popcorn (yes, really!).
Military Discounts
For those military members and their family, we offer military discounts with valid military ID: $5 movie tickets (Epping, NH) and $9 movie tickets (Littleton, MA).
Senior Wednesdays
Are you a senior age 62 and up? Stop in every Wednesday for Senior Wednesday discounts. In Epping, tickets are $5 each and in Littleton, $7 each. At both theaters, Senior Popcorn/Drink combos are $4.
Student Discounts
Students ages 12 to university (with valid ID) are eligible for everyday student discounts: $1 off all showtimes and purchase any size popcorn and receive a FREE 10 oz drink.
Don't break the bank with these ways to save this summer!