7 Movie Titles Based on Childhood Games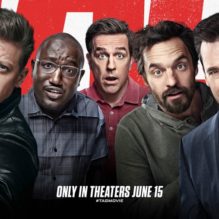 Tag, with an A-List cast that includes Jeremy Renner, Jon Hamm, Ed Helms, Hannibal Buress, and Jake Johnson, is it at O'Neil Cinemas starting Thursday, June 14.
Tag Movie 2018
The film is about a group of friends who've played tag for one month every year since they were in grade school. But when their one friend who's never been "it" wants to retire (Renner), the group decides to set out to finally get him. The comedy is Rated R.
Tag joins a long list of movie titles based on childhood games.
Tag and 6 Other Movie Titles Based on Childhood Games
Hopscotch (1980)
Walter Matthau and Glenda Jackson star in his adventure comedy about a CIA agent who goes on the run after writing a tell-all memoir that will embarrass his bosses.
Red Rover (2003)
Billy Baldwin and Jodi Lyn O'Keefe (She's All That) star as siblings who discover startling family secrets after the death of their father. (Sounds like a film that would pair nicely with Hereditary, now playing at O'Neil Cinemas).
Dodgeball: A True Underdog Story (2004)
Vince Vaughn stars in this film about a group of "Average Joes" who participate in the national dodgeball championship to maintain ownership of their favorite gym before a corporate health guru takes over (Ben Stiller).
Hide and Seek (2005)
In the wake of his wife's suicide, a widower (Robert DeNiro) tries to put his life back together by moving out to the country with his young daughter (Dakota Fanning). But his daughter has an imaginary friend named Charlie who could be dangerous.
Battleship (2012)
One of your favorite childhood board games came to life in this summer blockbuster, starring Taylor Kitsch, Brooklyn Decker, and Alexander Skarsgaard. In the film, a fleet of ships battles an armada of alien threats in order to stop them from destroying the earth.
Truth or Dare (2018)
A harmless game of Truth or Dare turns deadly when someone or something starts to push the boundaries of the game. Stars Lucy Hale (TV's Pretty Little Liars).