5 Movies Perfect for Moms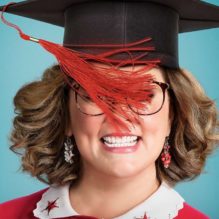 Mother's Day is coming, and O'Neil Cinemas wants to make it special for dear ol' Mom.
O'Neil Cinemas Mother's Day Contest
From April 30 to May 10, share a photo of you and Mom (or maybe even you and the kids, Moms) in the comments of this post to enter to win a movie prize package that includes two movie passes, a large popcorn, and a large drink. We'll announce a winner on Friday, May 11.
5 Movies Just for Mom
If you win the prize package (or even if you don't), these five films are perfect to take Mom to (note: films are subject to availability).
I Feel Pretty (Now Playing)
Amy Schumer plays a woman named Emily, who struggles with insecurity. But after she conks herself on the head during a spin class, she suddenly sees herself as the most beautiful and capable woman on the planet. Also stars Michelle Williams, Busy Philips, and Aidy Bryant. PG-13
Life of the Party (May 11)
Melissa McCarthy plays a recently divorced housewife and mother who goes back to college. . .with her daughter! Expect hilarity and awkwardness to ensue. Rated PG-13.
Book Club (May 18)
Candice Bergen, Diane Keaton, Mary Steenburgen, and Jane Fonda star in this romantic comedy about a group of friends who read Fifty Shades of Grey and soon find their love lives starting to shake up. Rated PG-13.
Ocean's Eight (June 8)
The ladies get a turn at thievery in this female reboot of Ocean's 11, only this one stars Sandra Bullock, Cate Blanchett, Anne Hathaway, Sarah Paulson, Rihanna, Mindy Kaling, Helena Bonham Carter, and more. Bullock plays Debbie Ocean, Danny Ocean's sister. Guess stealing runs in the family! Rated PG-13.
Mamma Mia! Here We Go Again (June 20)
This prequel follows a young Donna (Lily James), featuring her adventures with more Abba music. Oh, and only the one-and-only Cher! Rated PG-13.