5 Book Club Movies Coming Soon to O'Neil Cinemas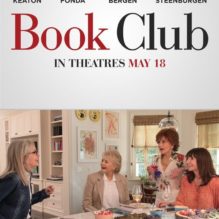 Candice Bergen, Jane Fonda, Diane Keaton, and Mary Steenburgen star in Book Club, starts Thursday, May 17 at O'Neil Cinemas in Brickyard Square Epping, NH and at The Point in Littleton, MA.
The film follows four friends in a book club whose lives change after reading Fifty Shades of Grey.
Are you part of Boston book clubs or book clubs in Southern New Hampshire? There are lots of upcoming movies adapted from books that would be perfect for a club outing. Here are 5 that we're looking forward to (note: these films are subject to availability).
5 Book Club Movies Coming Soon to O'Neil Cinemas
The Meg (August 10)
Expert deep-sea rescue diver Jonas Taylor (Jason Statham) must save a crew stuck at the bottom of the ocean that's been attacked by a massive creature that's been thought extinct. Based on the best-selling book by Steve Alten: Meg: A Novel of Deep Terror.
Crazy Rich Asians (August 17)
Native New Yorker Rachel (Constance Wu from TV's Fresh Off the Boat) is nervous about meeting her boyfriend's family in Singapore, but once she's there, she's even more nervous to learn that his family is one of the wealthiest families in the country. Based on the best-selling novel by Kevin Kwan.
A Simple Favor (September 14)
A mommy blogger (Anna Kendrick) tries to uncover the truth behind the disappearance of her best friend (Blake Lively). Based on the novel by Darcey Bell.
The House with a Clock in its Walls (September 21)
Director Eli Roth brings to the big screen the spine-tingling tale of 10-year-old Lewis who lives with his uncle in a creaky old house with a mysterious tick-tocking heart. Based on the series by John Bellairs.
Where'd You Go, Bernadette? (October 19)
The story of a brilliant but slightly unhinged architect-turned-recluse (two-time Academy Award winner Cate Blanchett) who disappears, leaving behind her husband and eighth-grade daughter, who's determined to find her. Based on the novel by Maria Semple.