2019 Summer Kids Series Returns July 1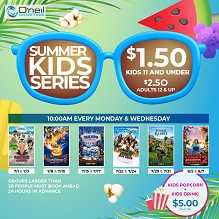 The Summer Kids Series at O'Neil Cinemas Brickyard Square and O'Neil Cinemas at The Point returns this July!
On Mondays and Wednesdays at 10 a.m., from July 1 through August 7, our theaters will be showing family-friendly movies for bargain prices. Tickets are $1.50 for kids 11 and under, $2.50 for all other ages. Kids popcorn/drink combos are $5 (excluding tax).
Note: Summer Kids Series movie tickets can only be purchased the day of the movie and in person at the box office.
2019 Summer Kids Series Schedule
Here's a schedule of the Summer Kids Series movies coming to Epping and Littleton:
7/1 & 7/3
Hotel Transylvania: Summer Vacation (2018)
Count Dracula and company participate in a cruise for sea-loving monsters, unaware that their boat is being commandeered by the monster-hating Van Helsing family.
7/8 & 7/10
Goosebumps: Haunted Halloween (2018)
Two young friends find a magic book that brings a ventriloquist's dummy to life.
7/15 & 7/17
Smurfs: The Lost Village (2017)
In this fully animated, all-new take on the Smurfs, a mysterious map sets Smurfette and her friends Brainy, Clumsy, and Hefty on an exciting race through the Forbidden Forest, leading to the discovery of the biggest secret in Smurf history.
7/22 & 7/24
Daddy Day Camp (2007)
Seeking to offer his son the satisfying summer camp experience that eluded him as a child, the operator of a neighborhood daycare center opens his own camp, only to face financial hardship and stiff competition from a rival camp.
7/29 & 7/31
Peter Rabbit (2018)
Feature adaptation of Beatrix Potter's classic tale of a rebellious rabbit trying to sneak into a farmer's vegetable garden.
8/5 & 8/7
Cloudy with a Chance of Meatballs 2 (2013)
Flint Lockwood now works at The Live Corp Company for his idol Chester V. But he's forced to leave his post when he learns that his most infamous machine is still operational, and is churning out menacing food-animal hybrids.
More Info
We hope to see everyone on Mondays and Wednesdays at 10 a.m. this summer. For more info, call Epping at (603) 679-3556 or Littleton at (978) 506-5089.